The Team at Bozeman Lodge
Ask our team… working in senior living is so much more than "just a job." It takes a kind, smart, and passionate individual to do the work of caring for another person. We are proud to have a team comprised of just that type. The Bozeman Lodge team is built of passionate and well-trained individuals dedicated to exceptional senior care.
Interested in joining the Bozeman Lodge team? Visit our careers page!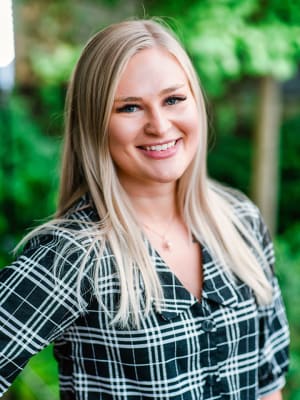 Caitlyn Stolz, Executive Director
Caitlyn Stolz, a licensed Administrator in several states, including Montana comes to the Executive Director position at Bozeman Lodge with nearly a decade of experience in senior care and a passion that stems from personal experience.
Caitlyn's passion for seniors started many years ago while taking care of her dementia diagnosed grandfather in their family home. Her grandmother is a continued catalyst in her efforts to make a difference in her senior living career. She began her senior living career as a member of a dining services team while still attending high school. Since that time, she has increased her knowledge, experience, and dedication to all areas of senior living, including serving in executive roles consecutively for the last four years. She spent the past two years opening and operating an assisted living and memory care community in Montana.
In her free time, you'll find Caitlyn exploring Montana's mountains or spending time with her family in Sandpoint, Idaho where she was born and raised.  
Tina Espeland RN BSN, Assistant Executive Director
Tina Espeland has spent over 30 years working in healthcare where she developed a love for working with the geriatric population.  She spent 21 years working in home health and home care where she held many positions that eventually led to Director of Nursing.
She chose to pursue a nursing degree, nursing has allowed her to provide the care that our geriatric population deserves. She attended college Montana Tech in Butte and later transferred to Montana State University in Billings to pursue her nursing degree.
Tina was born and raised in central Kentucky and still loves to go home for visits as often as possible. Her husband is a Montana Native and they moved back to Montana 26 years ago to raise their daughter and enjoy the outdoors. Her hobbies include reading, cooking, and traveling.  She loves to spend time with her family, two granddaughters, and her dog Mati! She likes to camp, float the rivers, and visit new places.  
She chose the Bozeman Lodge for the warmth and sense of family that she felt the first day she walked into the building. Professionally, her goals are to become an Executive Director and move to a regional role of developing a well-trained workforce who understands the complexities of the geriatric population. She also has a dream of attending a cooking school in France, after her retirement of course!